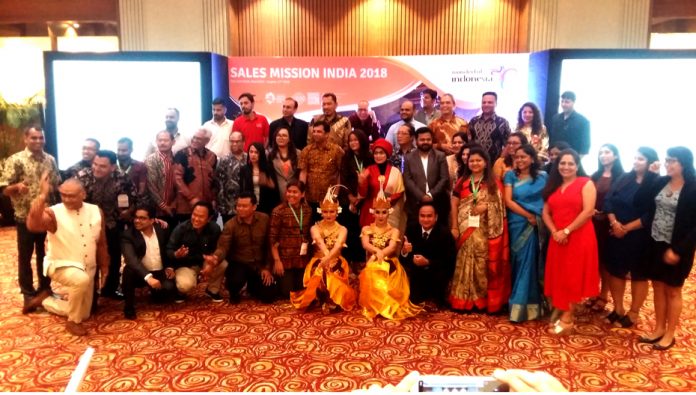 An impressive destination showcase at South Asia's biggest travel show SATTE in January; a four-city road show by the NTO that is ongoing and culminates on 29th later this month in Hyderabad, matched by another four-city road show by Badung region, all in August; and more to come before the year ends; Indonesia is not merely more bullish on India but is also backing that up with aggressive promotion and PR campaigns, trade engagement that goes beyond sales missions and exhibitions and some strategic tie-ups aimed at generating increasing numbers for the country.
After recording a stellar growth of 29 per cent in arrivals and replacing South Korea as the sixth largest tourism source market last year, India has only become an even greater priority for the Indonesia Tourism as the NTO looks to better the growth it's registered in Indian arrivals last year.
The NTO is targeting 40 per cent growth and 700,000 Indian arrivals this year as against an impressive 29 per cent growth and about 500,000 Indian arrivals in 2017. The Indonesian Deputy Minister of Tourism Marketing, Nia Niscaya, says, "We are not satisfied by merely good organic growth, we need to challenge ourselves and raise the bar. For 2018, the Minister has set 700,000 visits as the target for the Indian market and that's a huge 40 per cent target increase from 2017."
Indonesia Road show

                       

Badung road show


Mumbai          August 14                              Chandigarh    August 20
Delhi               August 17                              Jaipur              August 22
Bengaluru      August 27                               Lucknow         August 23
Hyderabad     August 29                              Kolkata           August 24
In order to deliver on the ambitious target that Indonesia has set for the Indian market, the Ministry of Tourism of Republic of Indonesia (MoTRI) has embarked on a four-city road show in India this month that is travelling to Mumbai (August 14), Delhi (August 17), Bengaluru (August 27) and Hyderabad (August 29). The road show is aimed at further enhancing B2B engagement in these cities and showcase the diversity of Indonesian tourism products to the Indian trade buyers in these cities.
Besides, Badung, a region with maximum tourism activities in Bali, in association with MoTRI, is also holding road shows in Chandigarh (August 20), Jaipur (August 22), Lucknow (August 23) and Kolkata (August 24) this month. Sigit Witjaksono, Director of Promotion for South & Central Asia, ME and Africa, MoTRI, says, "These activities are meant to convey the importance we place on the Indian market."