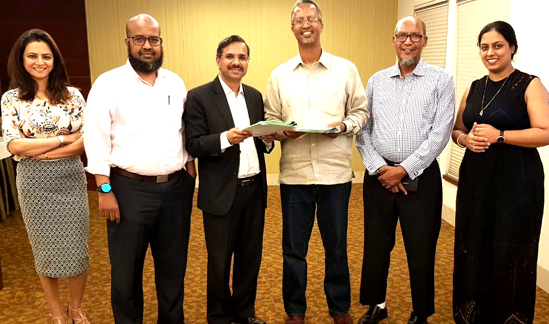 S

arovar Hotels and Resorts to open a hotel in Hargeisa, the capital city of Somaliland.  Owned by Upper Hill Hotel, Sarovar Premiere Hargeisa is expected to launch in 2020. The hotel will have a total of 123 rooms and suites, conferencing and meeting, an all-day dining restaurant and a swimming pool.
Sarovar Premiere Hargeisa is located in one of the prime locations of Somaliland close to the getaway port of Berbera and has good connectivity from Hargeisa Egal international airport as well for travellers to the country. Somaliland's Port of Berbera is a convenient distance from the hotel.
Ajay K Bakaya, Managing Director, Sarovar Hotels said: "In order to maximize further growth opportunities in Africa, we have added one more property in our portfolio. Having successfully operated hotels in other countries of Africa, we now look forward to provide our signature hospitality in this growing country as well."
Somaliland is a growing economy in East Africa. As a destination, it has much to offer for business and leisure travellers alike. There are plans for the port to be upgraded, the country's commercial hub. For the history buff, there are cave paintings and rock art, the most notable being the Laas Geel Caves. For beach lovers, Berbera an exotic coastal deserted beach, where the amazing warm waters of the Gulf of Aden stand still. The trekker and the nature traveller will have access to changing topographies from mountains to waterfalls, and to plateaus.
Sarovar Hotels & Resorts is a leading hotel management company and one of the fastest growing chains of hotels in India. Headed by a team of industry veterans, the company manages 80 operational hotels in 50 destinations in India and overseas, under Sarovar Premiere, Sarovar Portico and Hometel brands. The brands cover three, four and five star spectrum.
Sarovar Hotels is part of Louvre Hotels Group, a major player in the global hospitality industry, with a portfolio that now includes 2,500 hotels in 52 countries. It has a full hotel offering, spanning 1 star to 5 stars, with the Louvre Hotels Group's historic brands (Première Classe, Kyriad, Campanile, Tulip Inn, Golden Tulip, Royal Tulip), the 5 brands of the Sarovar network in India, and 4 Chinese brands (Metropolo, Jin Jian Inn, Bestay, Goldmet Inn).