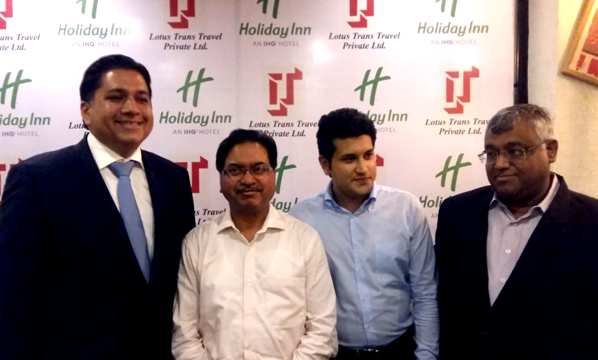 Lotus Trans Travel Pvt. Ltd., owner and operator of three hotel properties on the Buddhist circuit has inked deal with Intercontinental Hotel Group (IHG) under which all three of its operational properties along with a fourth one, currently a greenfield site, will be managed by the global hospitality giant under its Holiday Inn brand. IHG will takeover the management of these properties in a phased manner after these properties have been upgraded and refurbished to the brand standards of Holiday Inn.
Lotus currently operates hotels at Bodh Gaya, Kushinagar and Shravasti, whereas plans are afoot to develop a hotel at Gorakhpur. "Three of these properties have been in operation while the fourth one at Gorakhpur is a greenfield project. Lotus will at least invest a minimum of 20 cores in each of the three properties. Its total investment in all of these four properties will be to the tune of 135 crores. All the four hotels would be upgraded to international standard and would be five-star properties managed by IHG," informed Lajpat Rai, Managing Director of Lotus Trans Travels.
"We have partenered with Lotus Trans Travel to manage their hotels under the Holiday Inn brand in four locations which will all open within the next three to four years. It's almost about 450 rooms in all," said Sandeep Jain, Vice President Development, South West Asia, IHG.
Lotus' Bodh Gaya property that it acquired from India Tourism Development Corporation over fifteen ago would be the first to flag off as Holiday Inn next year around September, followed by  Kushinagar in 2020, Shravasti in 2021 and Gorakhpur in 2023, Rai informed. He also informed that all the four properties will have MICE facilities along with at least one fine dining and one speciality restaurant.
Commenting on the planned upgradation, Rai said, "Unfortunately we don't have quality accommodation in the Buddhist circuit. Most of the hotels are three-star or less. But now travellers' expectations are changing. They want better quality of accommodation. So we are upgrading our hotels to five star standards. This is going to be the first international chain hotels in these Buddhist pilgrimage destinations."