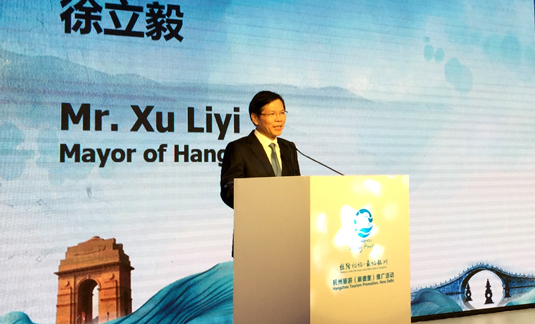 H

angzhou Municipal Government recently organised a tourism promotion workshop in Delhi in order to educate leading travel industry buyers and stakeholders from the city. The workshop was aimed at kindling interest of the fast growing Indian outbound travellers in Hangzhou's diverse touristic appeals and to help develop the Indian market to boost tourism from India to Hangzhou.
The tourism promotion delegation was led by Xu Liyi, Mayor of Hangzhou Municipal People's Government. Hangzhou Tourism Commission's Director General, Zhang Hongbin, was also part of the delegation. Representatives of Federation of Associations in Indian Tourism & Hospitality (FAITH), Travel Agents Association of India (TAAI), Indian Association of Tour Operators (IATO), among others, attended the workshop.
Drawing attention to Hangzhou's antiquity and heritage, Mayor Liyi, said, "Hangzhou is a renowned historical and cultural city in China. The city has two UNESCO World Heritage Sites, the West Lake and the Grand Canal. In addition, we boast of the famous 'Liangzhu culture' which can date back to about 5,000 years. It is called the 'Dawn of Human Civilisation.' The establishment of Hangzhou city can be traced back to 2200 years ago. In the 13th century, famous Italian traveller Marco Polo recognised Hangzhou as the most magnificent city in the world. For thousands of years, Hangzhou's long history and culture has been fascinating for people."
---

---
Furthermore the Mayor said, "Today's Hangzhou, with a city area of 16,600 square kilometres and a population of 9.4 million, is the central city on the southern wing of Yangtze River Delta and an international tourism and leisure centre, presenting to the whole world the unique charm of history and modernity. It is a quality city for international tourism. Its green hills and clear lakes and rivers delight the eye on sunny days and present a special view on rainy days. Hangzhou is imbued with a charm unique to the south of the Yangtze River that has been fostered over many generations."
Citing a popular Chinese saying that says, "Up above there is heaven; down below there are Suzhou and Hangzhou", Zhu Xiaohong, Counsellor of Chinese Embassy in India, on the occasion, said, "If you would love to know how heaven looks like, you are welcome to visit Hangzhou and find your answer by yourself there."
Stressing that both India and China share profound cultural and historical linkages, the Counsellor, added, "China-India relation is so important that our two countries could not afford to isolate one from the other. Amity between the people holds the key to sound state-to-state relations. And tourism plays an important role in promoting mutual understanding between our two peoples and enhancing the bilateral relations between China and India. This year President Xi Jinping and Prime Minister Modi decided to establish the High Level People to People Exchange Mechanism during the Wuhan Informal Summit. We are working on it and making every effort for its success."
Holding the Indo-China relationship special in "many ways" because of "historical and civilizational links" and China being India's biggest trading partner today, Anil Oraw, Regional Director, India Tourism Delhi, Ministry of Tourism, Government of India, pointed, "There are many similarities between the Indian and Chinese tourism products, which could help in promoting greater cooperation between the two countries in the field of tourism. Both are fascinating destinations and share glorious ancient heritage and civilization as old as mankind. Travelling distances are short and hence package tours could be more economical. Both the countries have cultural diversities and historically warm relations."
Oraw also drew attention to the agreement on tourism cooperation that was signed in 2015 between the Ministry of Tourism and the National Tourism Administration of the People's Republic of China. 2015 was declared "Visit India Year in China" and subsequently 2016 was declared "Visit China Year in India."
Capital of Zhejiang province, Hangzhou surpassed the 4 million mark in international arrival last year, including about 35,000 Indians visitors. Indian arrivals grew by almost 10 per cent and ranks 6th largest visitor source market from amongst the Asian countries.
One of the most developed cities of China and home to internet retail giant Alibaba, Hangzhou has lately witnessed tremendous recognition that's transforming its tourism fortunes. Venue of the G20 Summit in 2016, the event greatly lifted the international profile and reputation of Hangzhou. Furthermore, the UNWTO and China National Tourism Commission have recognised Hangzhou as the best tourism city in China. Last year UNWTO included Hangzhou in the list of prestigious 'Global Top 15 Sample Cities for Tourism.'