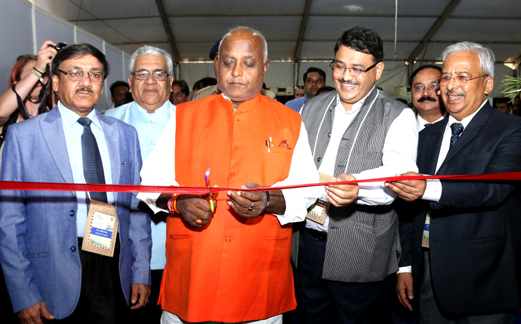 The fifth edition of Madhya Pradesh Travel Mart (MPTM) organized by Madhya Pradesh Tourism Board registered 75 international buyers from 28 countries like Europe, Southeast Asia, Middle East, the US, Australia, South Africa, Malaysia, China and France etc, and 125 domestic buyers from across the country. There were 75 sellers from the state of Madhya Pradesh who interacted with the buyers to promote their products as well as the destination.
In the august presence of Hari Ranjan Rao IAS, MD – Madhya Pradesh Tourism Board & Principal Secretary Tourism, Dr. Ilayaraja IAS, Managing Director – Madhya Pradesh State Tourism Development Corporation and Bhawana Walimbe, Additional Managing Director – Madhya Pradesh Tourism Board, Capt Swadesh Kumar, President – Adventure Tour Operators Association of India,  PP Khanna, President Association of Domestic Tour Operators of India, and the large number of buyers and sellers, Hon'ble Minister for Tourism Government t of Bihar Pramod Kumar inaugurated the fifth edition of the Mart.
While addressing the delegates the Tourism Minister of Bihar said that the tourism in Madhya Pradesh has achieved a remarkable growth and created its own space at the world tourism map. "We are closely following the best practices of MP Tourism and planning to implement some of them in our state to expedite the growth of tourism. Since there is a huge potential, I hope the officials of both sides will exchange their ideas and make a way to boost tourism between these two states," said Pramod Kumar.
According to Hari Ranjan Rao (IAS) Managing Director, Madhya Pradesh Tourism Board & Principal Secretary Tourism, said: "In last four years, the Mart has created a platform that offers perfect environment for the like-minded people to interact and do business together. The show promises to provide an opportunity to tap into this market by bringing a forum of exceptional one-to-one business meetings."
He further informed that MP Tourism is coming up with host of initiatives to achieve further growth in the field of tourism. The state is aggressively focusing on promotion in international markets and planned many roadshows in coming months. A 'City Walk' has been started by the department of tourism to promote the heritage sites of the state.
According to him, the state is focusing on adventure segment in a big way. The upcoming event 'AdventureNEXT' in Bhopal from 3rd to 5th December is a huge opportunity for local suppliers to interact with international buyers.
Apart from the B2B meetings scheduled between buyers and sellers, the Madhya Pradesh Tourism Board organised a post-destinations tour to Mandu, Sanchi, Kanha and Pench to offer a first-hand experience to the delegates.