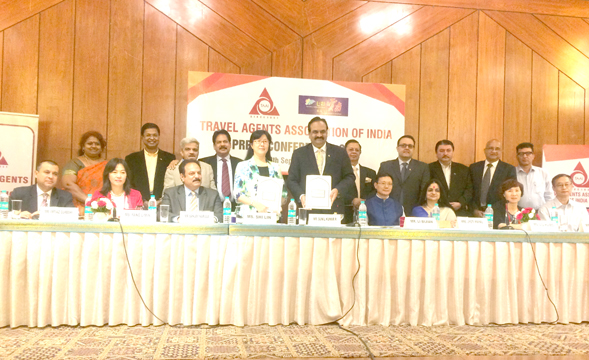 At a time when whole country is looking at China to attract its deserving number of outbound traveller, Travel Agents Association of India (TAAI) has decided to bring the travel agent's community of both countries closer through its annual convention. The 65th Convention & Exhibition of TAAI popularly known as Indian Travel Congress is all set to be organised at Kunming in Yunan province of China from 27-30, November 2018.
TAAI and Yunan Provincial Tourism Development Commission have signed an MoU in this regard. A delegation from YPTDC lead by Shilin, Vice Director General of YPTDC along with Fang Limin, Vice Director of International Marketing Department of YPTDC, Liu Huibo, Vice Director of International Marketing Department of YPTDC and TianXin, Director, China National Tourist Office, New Delhi was present at a press meet in New Delhi recently. The delegation extended their support to TAAI Convention in Kunming.
According to TAAI President Sunil Kumar R, "TAAI has been working towards a stronger connect with China. The country has a huge potential of tourism. Outbound from India to China is quite high. There are parts of China that are not widely known and not experienced by the Indian travellers. TAAI eagerly awaits to organize its first convention in China. Both of the organizations are in discussion to offer an opportunity to the industry that will beneficial for tourism between these two destinations."
While addressing the media, Shilin, Vice Director General of YPTDC made a detailed presentation on the tourist attractions of Yunan. "Although the number of Indian tourist to Yunan has increased nearly ten folds in last one decade but compare to the population size of these two countries, the potential and space for 'Tourism Corporation' is enormous. In this context, I believe that the upcoming convention and a host of consecutive efforts are being made by Yunan and India will continue to add new programmes in the field of tourism and deliver more fruitful results in near future," she added.
Sanjay Narula, Vice President, TAAI said: "China is sending 140 million outbound tourists every year and India gets a very low share of this large number, so we have chosen this destination for our travel professionals to go there and participate in our TAAI Exhibition and interact with the stakeholders of China, strengthen their relationship and grow the momentum between these two countries." He further said that TAAI conventions are hallmark when it comes to create new products and services and this convention is no different from other conventions of TAAI.
According to him, what is wonderful and unusual to find a destination so close to home; Kunming a very modern, beautiful with great view of mountains, lakes, good infrastructure and rich heritage is just four hour away from Delhi. It's a great destination for MICE, conferences and weddings.
The convention destination Kunming is the most beautiful and green city in the Yunan Province of China which is only about 2.5 hours flying from Kolkata and about 3.5 hours flying from Delhi on a direct connectivity. It is well connected with Bangkok and Kuala Lumpur as well.
Elaborating on the importance of TAAI conventions, Kumar said that TAAI has always utilized the opportunity of its Conventions & Exhibitions held overseas to also attract inbound into India. The association has launched Namaste India evenings at conventions.
With the success of 64th TAAI Convention to boast of TAAI continues to earnestly work towards greater opportunities to be explored and the task of tourism development to continue. TAAI Conventions have been held in a number of countries very successfully.